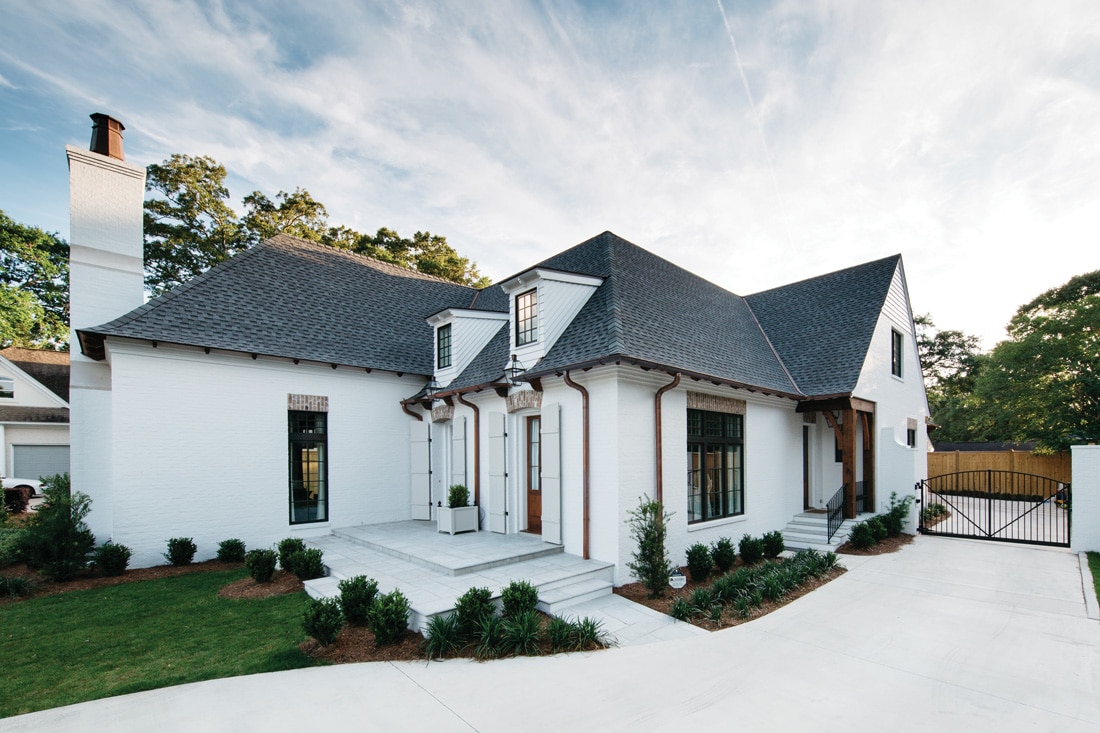 Cousins Bernard Wood and Robert McCown come by their trades honestly. In fact, you might say building is in their blood. Their grandfather, Tommy McCown, was a longtime designer, builder and developer in the Port City. Robert followed in his footsteps as he established his own business, McCown Design, and likewise, Bernard launched BW Construction, a company that specializes in fine custom homes and renovations.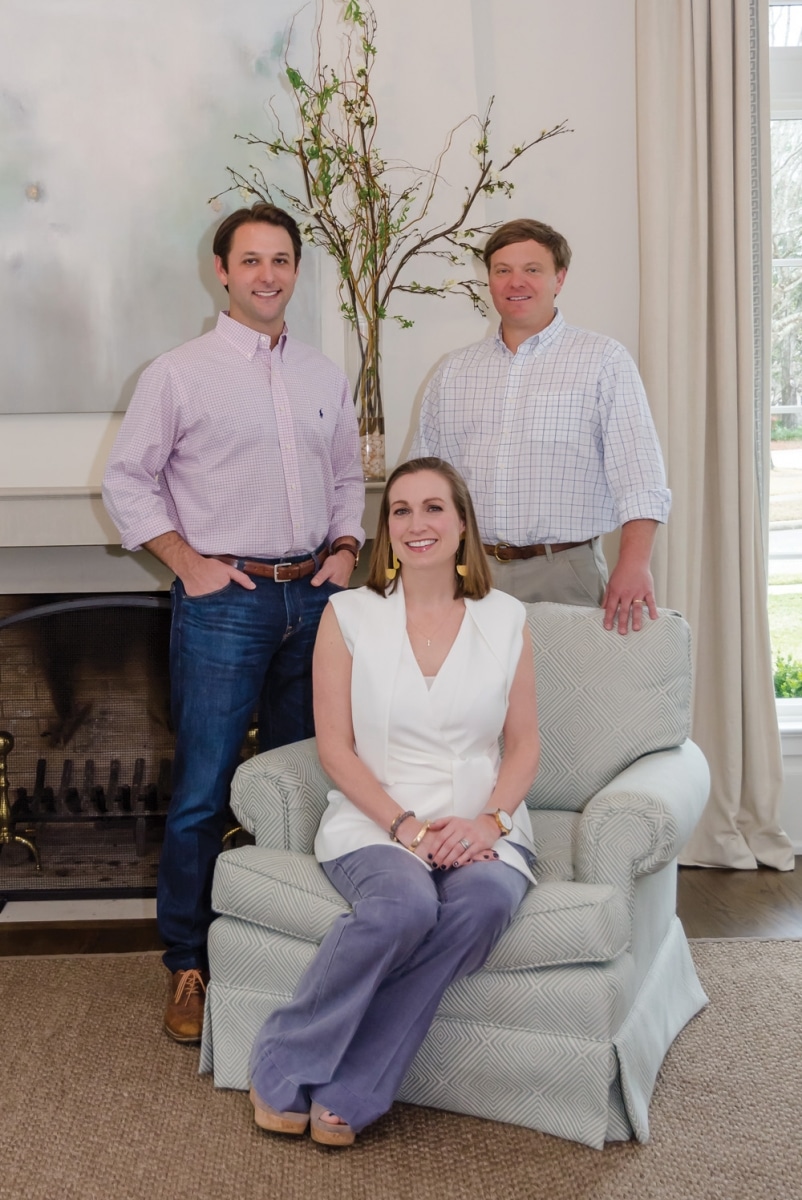 ABOVE Homeowners Bryant, seated, and Bernard Wood, far right, are pictured with designer Robert McCown in front of the cast-stone fireplace in their living room.
So in 2012, when Bernard and his wife, Bryant, purchased a lot on the Spring Hill street where Bernard lived as a young child, there was no hesitation about who would draw up plans for their new abode. Ironically, Robert had already begun sketches for the lot's previous owner, and the Woods immediately enlisted him to complete the work. So the two cousins set out to collaborate on the project that would surely make their family proud. While Robert had a vision for the layout and elevation, Bernard had specific ideas for materials — stones, pavers and wood.
Early on in the process, the Woods also enlisted Ann Luce with Hawkins-Israel III Interiors, and she was able to bring ideas for the smallest details that in the end gave a cohesive look indoors and outside. BW craftsmen were able to create many of Ann and Bryant's ideas for furniture, doors and decor. (Naturally, Ann also happens to be related to both Bernard and Robert by marriage.) Continuing the family connections, the cousins' uncle, Robin Luce with JubileeScape, planned and installed the landscaping.
Besides beautiful lines and soothing decor, the house also features green design and smart technology. Robert oriented the house east to west to maximize low winter sun exposure, but added deep overhangs to protect from intense summer heat. Geothermal Solutions installed a geothermal HVAC that the Woods can control with smart technology from their phones. Bryant says she wanted a pristine space, but was realistic about life with three young children. All the furnishings are upholstered in stain resistant or wipeable fabrics and the floor coverings are indoor/outdoor rugs from Dash and Albert.
The result of the group effort is a clean and modern home for a young family with a natural eye for design. Tommy McCown would be one proud grandfather.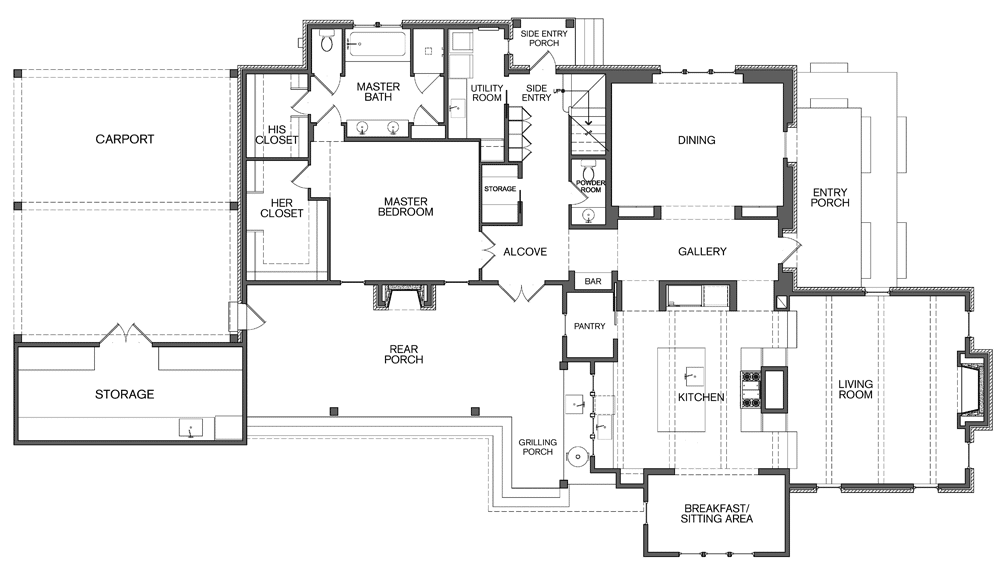 ABOVE The unique house is perfectly situated on its long narrow lot. The floorplans drawn by McCown Design follow the shape of a Z, bathing most every room in natural light from windows on multiple walls. A covered porch with fireplace adjacent to the kitchen turns the narrow side yard into an outdoor living room.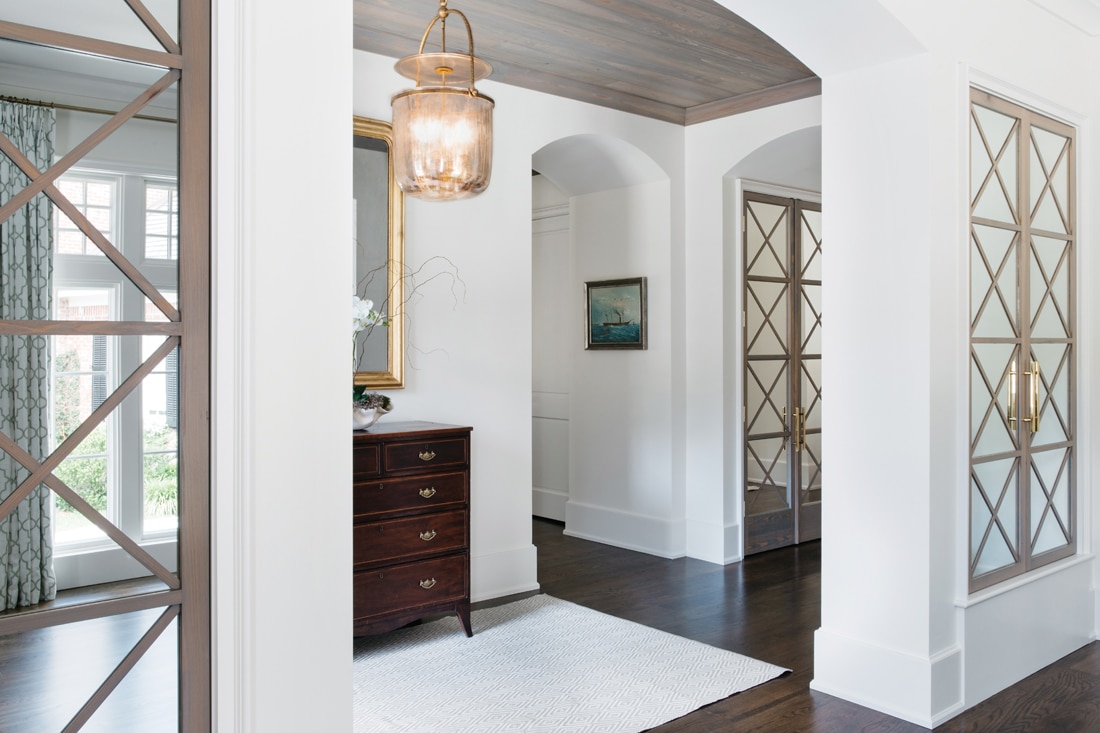 ABOVE The front entryway features a cypress ceiling stained to match the custom cypress doors of the dining room china cabinets and hidden bar.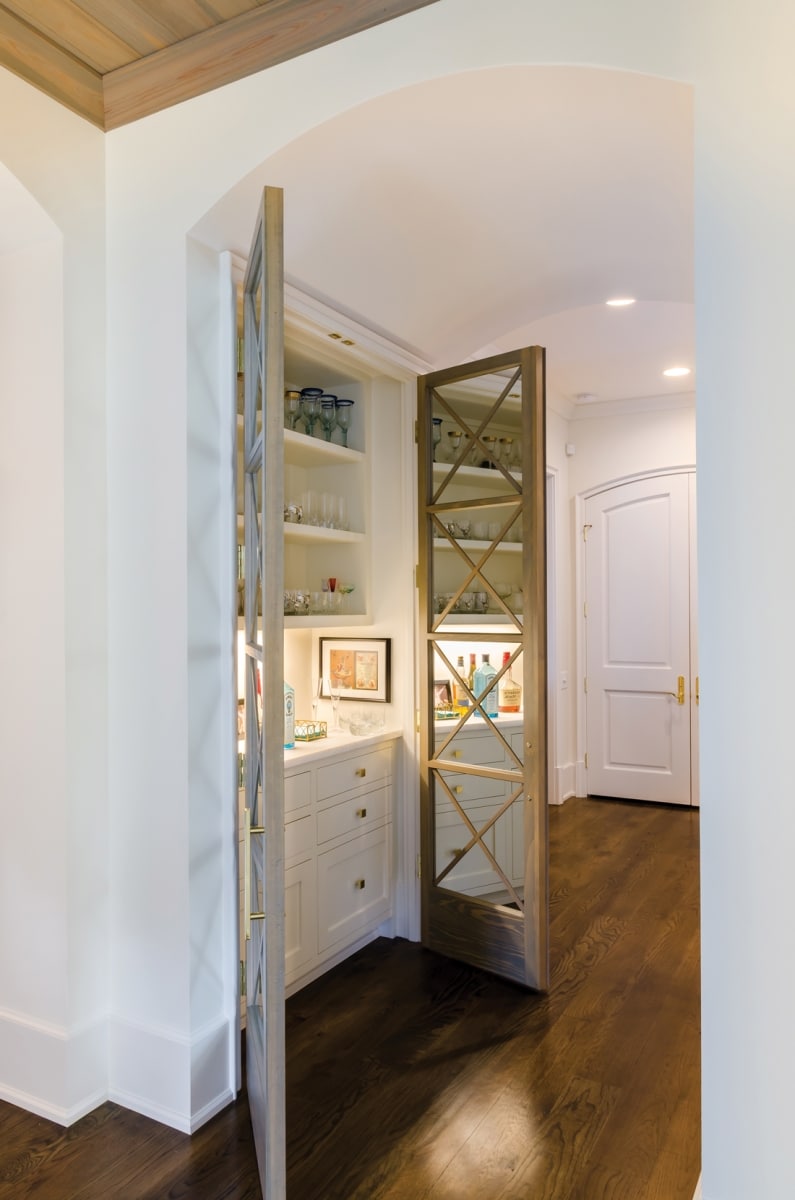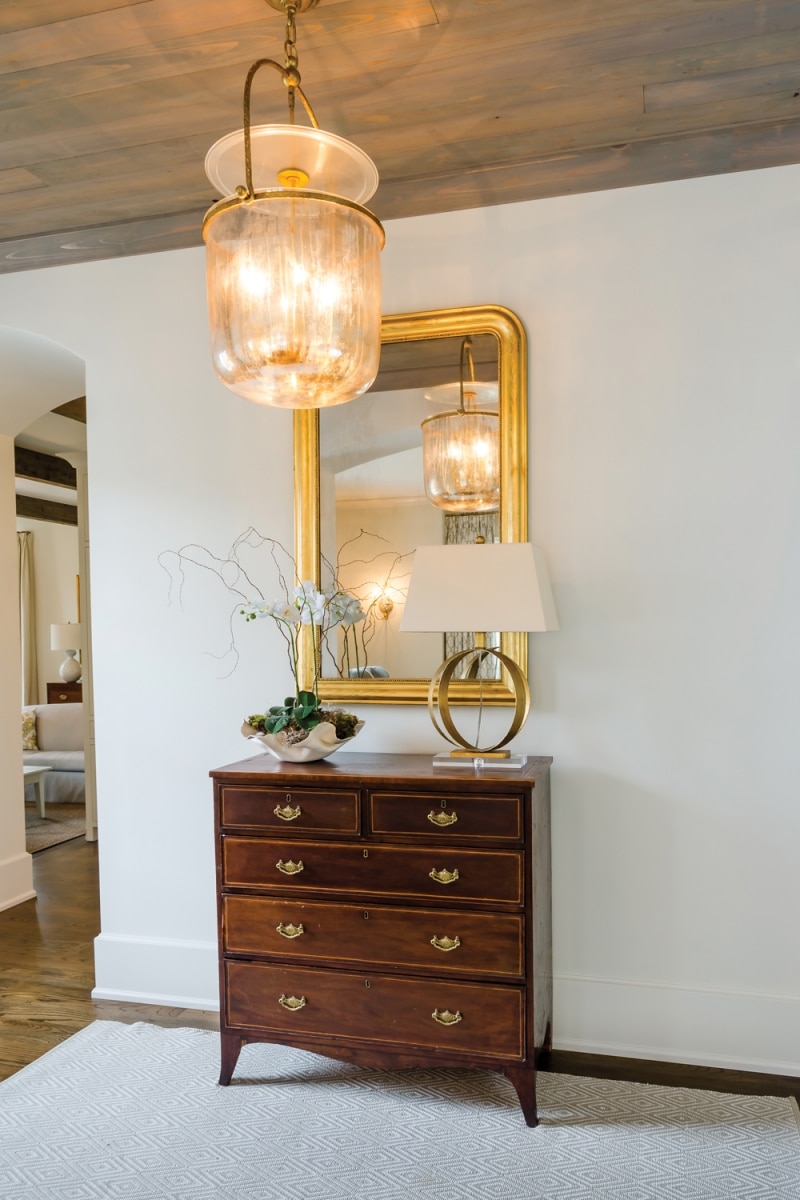 ABOVE Interior designer Ann Luce had the idea for the mirrored inset doors with decorative X motif, and Bernard's craftsmen produced them. The deep, vaulted doorway jams add a European touch.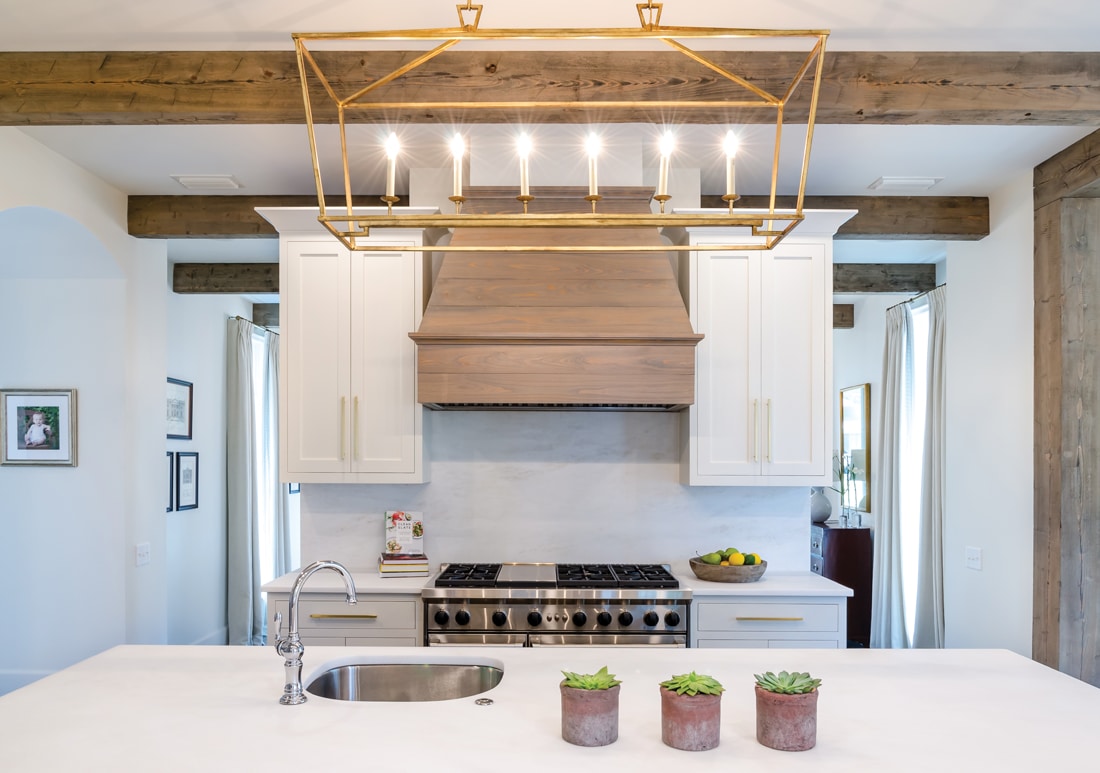 ABOVE A custom-built cypress hood is stained to match the other accent wood throughout the house. An airy chandelier floats over the kitchen island, which is clad in marble from Stone Interiors. The extra sink in the island makes prepwork and cleanup a breeze.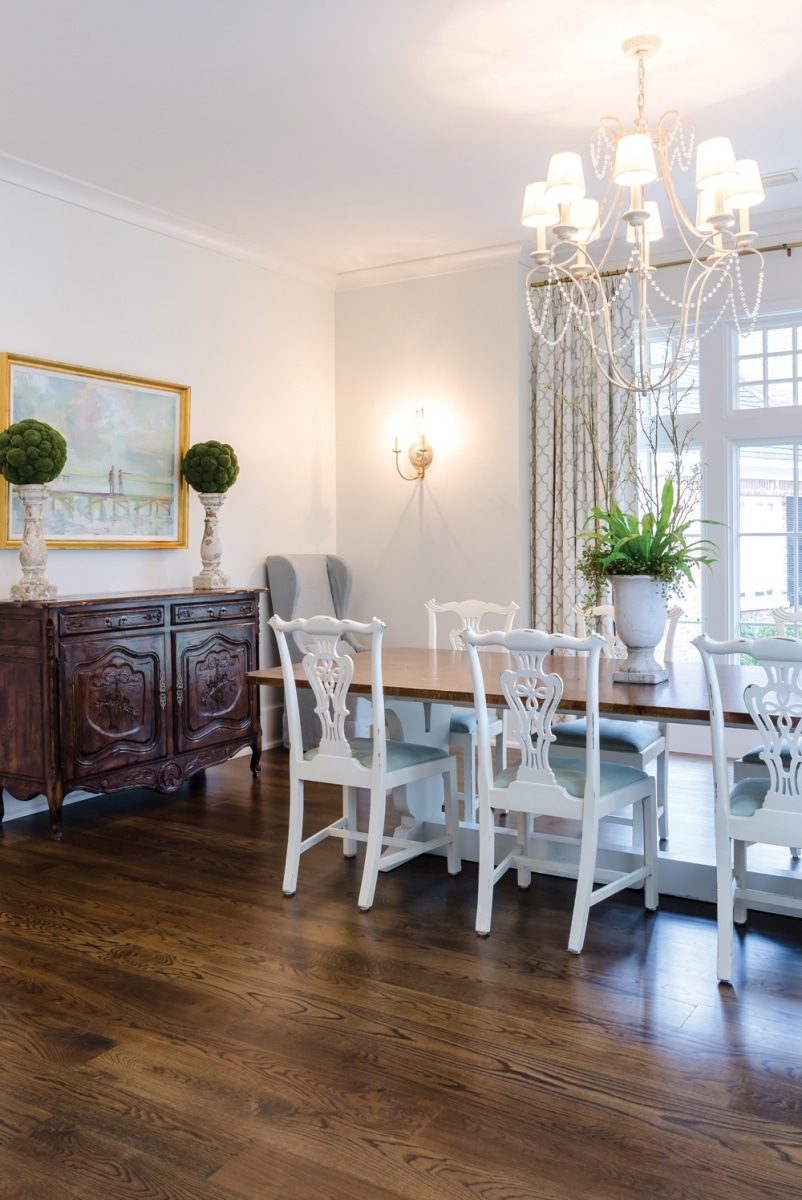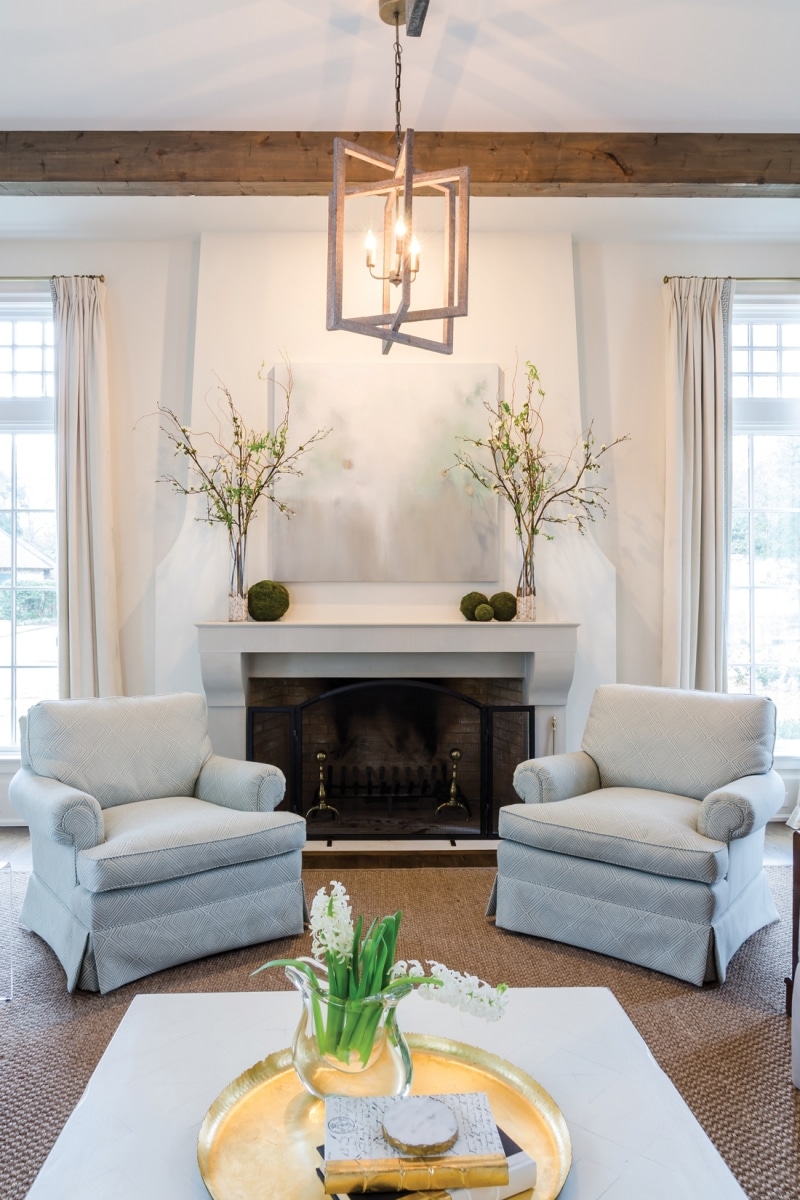 ABOVE The dining room features a custom table designed by Robert and finished by Ann. The living room mantle is cast stone with a decidedly European look. Hand-hewn beams from Deas Millwork finish the space. Bryant and Ann chose kid-friendly, stain-resistant fabrics for the room.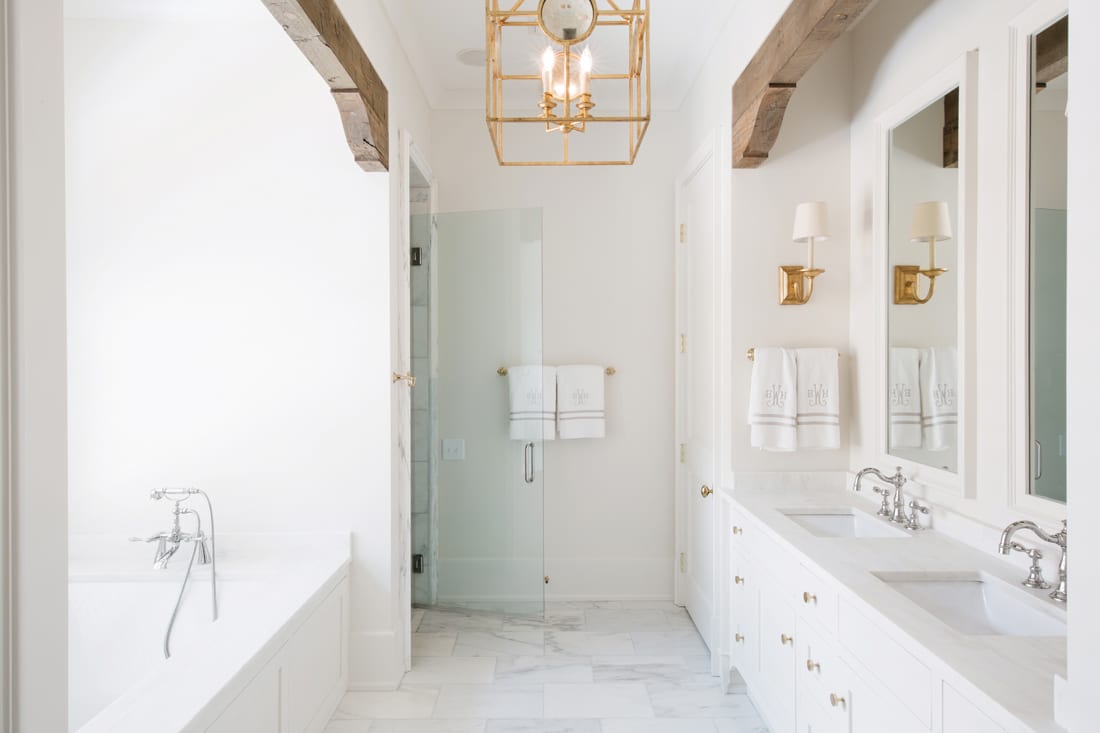 ABOVE The master bath is an oasis of calm, finished inside and out in Alabama White marble. The hand-hewn wood beams and gold accents keep it cohesive with the rest of the house.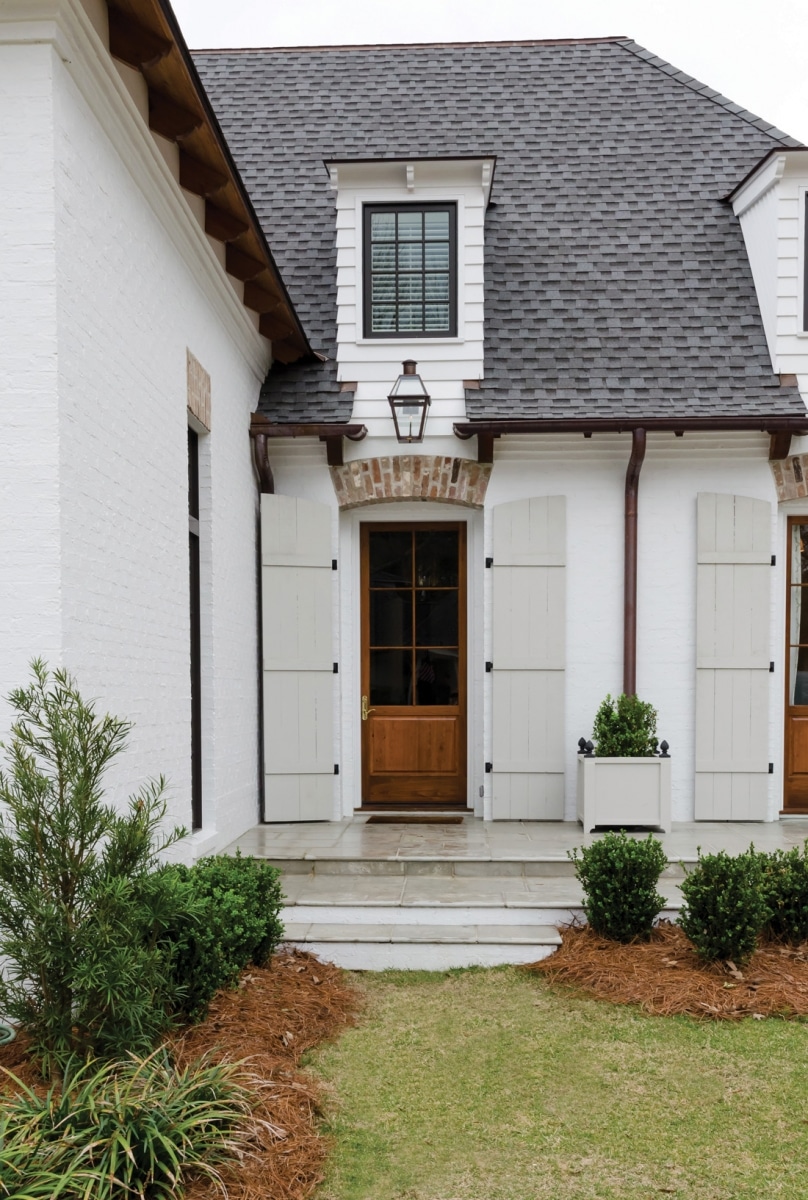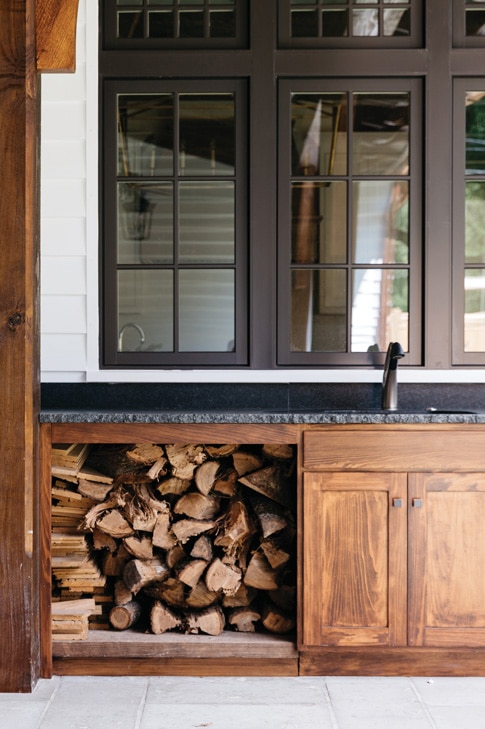 ABOVE LEFT The cypress front door opens directly onto a landing of Fire Rock pavers. Elegant copper gutters trim the roofline. Robert tempered the modern feel of the house with old world details, such as gas lanterns, dormer windows and working shutters.
ABOVE RIGHT The outdoor kitchen features a built-in Big Green Egg, sink and storage for firewood, all topped by Black Pearl granite countertops finished with a raw edge for a masculine look. The large windows above face into the light-filled kitchen so everyone stays connected, whether dinner is being prepared indoors or out.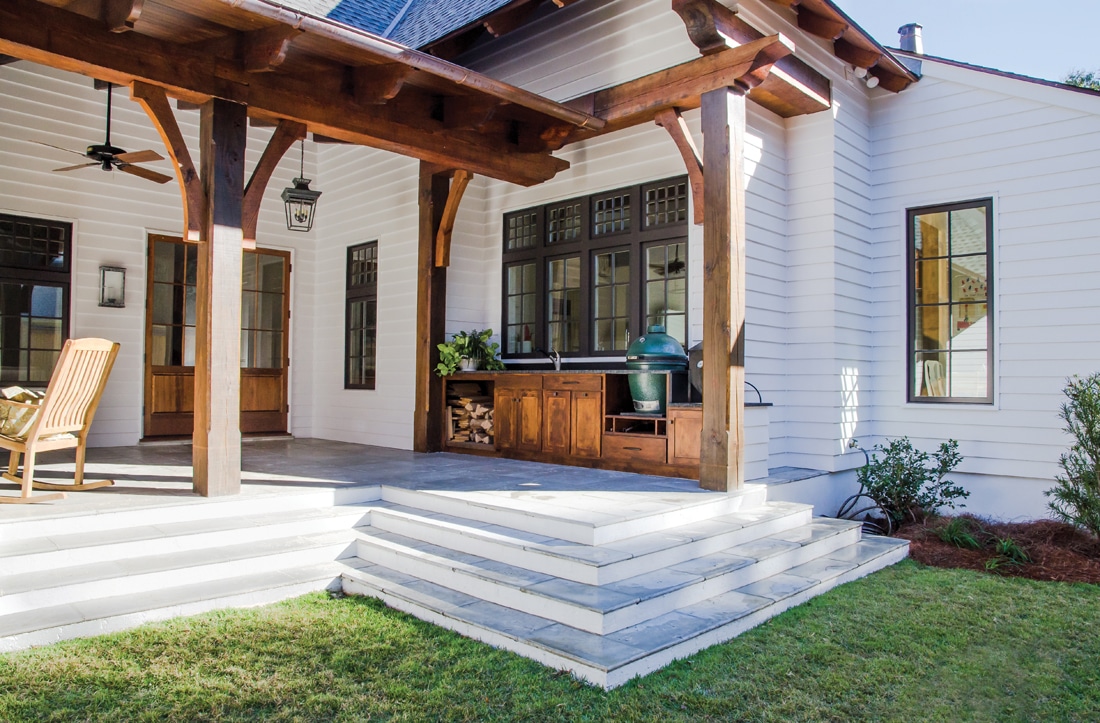 ABOVE The home features a large side yard and outdoor space perfect for family living.